VCU/Adobe Partnership News


VCU's Adobe Creative Cloud Journey
VCU was the first university in Virginia to earn the designation of "Adobe Creative Campus", and offered students the opportunity to purchase Adobe Creative Cloud licenses at deeply discounted prices. Now, in 2022, VCU's Adobe Enterprise License agreement includes full access to these applications for all VCU students enrolled in at least one credit-bearing course.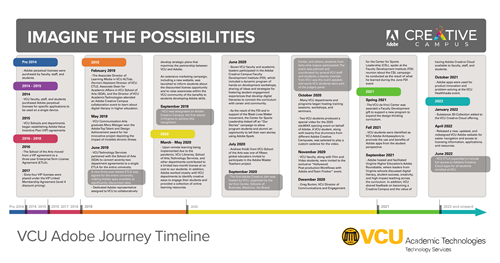 Learn more about VCU's journey to this achievement, which will benefit our students for years to come.


VCU Aims to Become the University of the Future
August 3, 2022
Adobe's higher education strategist spoke with VCU Provost and senior vice president for Academic Affairs, Fotis Sotiropoulos, as well as several VCU students and staff. Read the article to learn more about how VCU is is closing the gap between career requirements and best-in-class learning, and creating a new blueprint for the university of the future with Adobe Creative Cloud.


VCU Earns Designation as Adobe Creative Campus
December 5, 2019
This month, Virginia Commonwealth University joins the ranks of innovative, forward-thinking institutions such as Indiana, Clemson and Temple universities as an Adobe Creative Campus. The designation from the multimedia, creative-software company recognizes colleges for incorporating problem solving into their curricula and fostering 21st-century methods of teaching and learning.